Enlightened manufacturers "discover" the elderly market
03/07/2014
VietNamNet Bridge – Elderly consumers in Vietnam offer manufacturers a potentially large market, currently at 5.6 million customers and growing. But, until now, that market has been largely ignored.
A promising market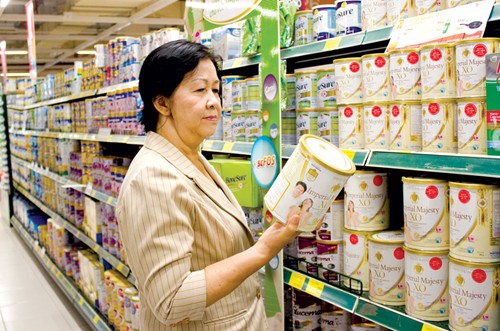 A recent survey by Nielsen Vietnam, a market survey firm, showed that the majority of Vietnamese elderly consumers complained that they could not find suitable products. Up to 43 percent of the 30,000 polled consumers said it is too difficult to find satisfactory nutritious products.
Elderly consumers are defined as those aged 65 or higher.
Dairy products for elderly people reportedly account for 10-15 percent of the total products available at supermarket chains. These include two foreign brands, Anlene, distributed by Fonterra Brand Vietnam, and Majesty XO of South Korean Nam Yang.
Analysts have noted a growing tendency of manufacturers to penetrate niche markets, a strategy which has brought success to many enterprises in the context of stiff competition.
Vinamilk, the Vietnamese leading dairy producer, has recently launched a series of products for elderly people's health care, including VinamilkDiecerna for diabetics and Vinamilk Sure Prevent which offers additional nutrition to old people. Meanwhile, Nutifood has products for diabetics and old people..[recovered from what??]
However, Vinamilk and Nutifood are the exceptions. The number of enterprises eyeing niche markets is very modest. In the food processing sector, Saigon Food has proven to be the only company that makes products for elderly people.
However, Le Thi Thanh Lam, Deputy General Director of Saigon Food, admitted that there have been very few specific products for elderly people.
Though Saigon Food began making products for elderly people a long time ago, it still has not shown identification signs on the products' packs.
"If you point out that these products are well-suited for elderly people, you lose many customers, because young people will not buy the products," Lam said.
According to Nguyen Thi Thu Phuong, General Director of Nam Duong JSC, the distributor of Majesty XO powder milk, the average elderly Vietnamese consumes 25 kilos of milk every year, much lower than in Thailand (139 kilos) and European countries (253 kilos). Therefore, there are still many opportunities for manufacturers to exploit the Vietnamese market.
Market warms up
Phuong has noted that the demand for nutritious products for elderly people has been increasing sharply thanks to the improved income of Vietnamese people and their awareness of the importance of good healthcare and nutrition.
Having realized the great potentials of the market, dairy producers have been making every effort to exploit it. Anlene, Majesty XO and Vinamilk have been stepping up their advertising campaigns to attract older customers.
Analysts noted that Anlenehas allocated the biggest budget for ad campaigns to boost sales. An advertisement with the image of actress Michelle Yeohappears nearly everyday on TV.
Meanwhile, Majesty XO has chosen Ngo Phuong Lan, a beauty, for its campaigns to promote the brand. Phuong said five donation programs will be organized by Nam Duong nationwide in 2014.
As for Vinamilk, the producer has organized a series of consultancy programs for elderly people, which are believed will help increase customers' recognition of the Vinamilk brand.
DNSG
Other article