Impacts of East Sea tensions on economy weighed
03/07/2014
VietNamNet Bridge – Vietnam's economy would not suffer much if China suspended trade with Vietnam due to the East Sea tensions triggered by its illegal placement of a giant oil rig deep inside Vietnam's waters, according to the General Statistics Office (GSO).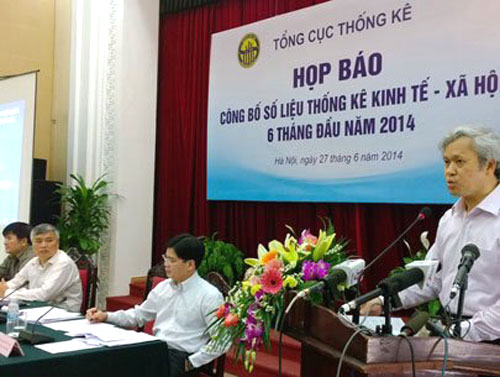 Nguyen Bich Lam, director general of GSO, speaks at a press conference in Hanoi last Friday to update socio-economic indicators in the first six months of this year.
Nguyen Bich Lam, director general of GSO, told a press conference in Hanoi last Friday to provide updated socio-economic indicators in the first six months of this year that Vietnam's gross domestic product GDP is forecast to drop if its trade with China is halted.
However, the nation will manage to find new trade partners soon, Lam said.
The forecast was more optimistic than those predicted by the Vietnam Center for Economic and Policy Research (VEPR) earlier when it gave out two scenarios, with the less optimistic scenario envisaging the economy to grow 4.15% while the other putting economic growth at 4.88%.
At the press conference, GSO said Vietnam's economy has shown clear signs of recovery when the GDP growth is projected to expand 5.18% in the first half of this year.
Figures of GSO showed the country's economy has improved quarter-on-quarter as it rose 5.09% year-on-year the first quarter but 5.25% in the second quarter.
Vietnam reported GDP at US$156 billion in 2012 with exports to China reaching US$12.8 billion, or 12.1% of GDP, while imports were US$118 billion, 25% of it from China.
Le Thi Minh Thuy, head of the trade, export and import statistics department, said after Vietnam joined the World Trade Organization (WTO), its exports to China soared 23% annually, higher than the average of 19% a year in other markets.
Meanwhile, imports from China grew 26% a year, causing the trade deficit to soar to US$24 billion in 2013 and US$13 billion in the first six months of this year. Of which, Vietnam imported 30-40% of machines and devices, 50-60% of materials and 10% of consumer goods.
Chinese machines and equipment have been used in many projects, so the nation will not be able to reduce dependence immediately. In addition, electronic components make up 70% of materials but Vietnam cannot export finished products to China.
"We mainly export farm produce and minerals to China, so trade deficit reduction with that country requires a drastic change of behavior at local enterprises," Thuy said.
According to GSO, China is the fourth largest export market of Vietnam in the first half of this year after the European Union (EU) (US$13.1 billion, up 12.8% year-on-year), the United States (US$13 billion, up 19.5%) and ASEAN (US$9.6 billion, up 4.8%).
China's imports from Vietnam have surged 20.8% to US$7.4 billion, with crude oil up 336%, rice up 5.5%, transport means and spare parts up 763%, and fiber up 52.7%.
China remains Vietnam's biggest import market when earning US$20.4 billion, up 21%, with some products such as machine, cell-phone and cloth up 30.3%, 11.3% and 25.6% respectively.
Trade deficit with China continues rising, projected at US$13.1 billion in the period, a year-on-year increase of 21.2%.
SGT/VNN
Other article